Click Setup on the Main menu to see the Setup form. Enter the street, city, such as Dallas, and other info. The DocFolder is where scanned documents are stored. Some reports show the number of households who received a First Service within a date range. The FirstSvc field lets you specify the date of that First Service. If a household receives more social services after that date, only the first one will be counted as a First Service. If the household received a service before the FirstSvc date, an additional service will count as a First Service. People who are as old as the Elderly field will be counted in elderly statistics on reports. You can view (read only) or export any table in the system using the Table combo. You can move fields around and sort the records on any combination of those fields. Ctrl-F to find specific records in the field. The TblDoc link creates an HTML data dictionary that defines every field in the system. User opens the User form where users can change passwords and super users can add, change or delete users. A super user must have clinic privileges to give other users clinic privileges. A super user must have client services privileges to give users senior, transitional housing or client services priveleges. Click Link to change the location of the tables database. This lets you connect to old archives, training data, or use the database on a stand alone laptop. Backup quickly saves a copy of the data tables to another location such as a flash drive. Click Quit to force users out of the database for maintenance. Compact rebuilds the indexes, repairs and reduces the size of the MS Access tables database.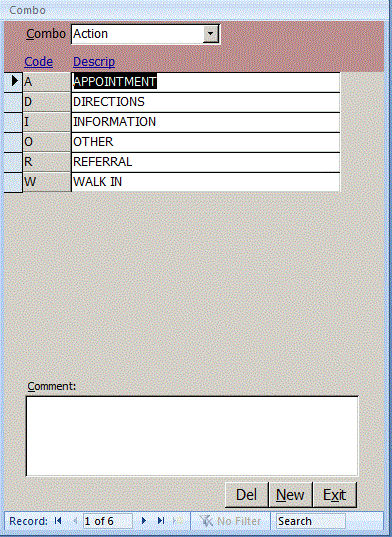 Click Combo to open Combo Form. From here, you can edit fifteen tables that are used as combo boxes in the system. This gives you a great deal of flexibility in customizing your forms and reports to your area. Some combo fields include: Income Level, Income Type, Referral Agency, Referral Category, Race, Education, Ethnicity, Marital Status, Age Group, and Followup Result.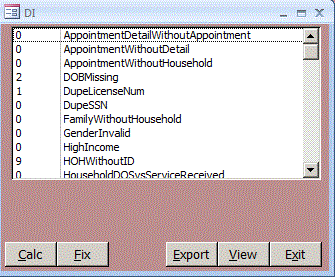 The Data Integrity Form contains at least 26 queries that help you spot data inconsistencies. Each shows the user who last updated the record, and if appropriate, when the household last received a service and the total value of services that household received. If the problem can be fixed easily by the system, you'll see a Fix button. Click Calc to rerun all the queries. The Data Integrity form lets users enter data without slowing down to track down incomplete or unavailable information. It highlights missing data that keeps valuable services from appearing on reports. This helps you justify donations to the nonprofit charity. It is very easy to add more data integrity queries as the need arises.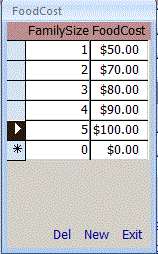 Food Cost form lets user enter dollar amount of food being given to client.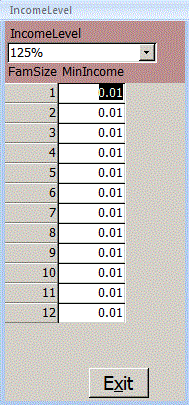 Income Level form lets yu ente amount of client's income into system.

Service form shows user types of assistance availaible to clients.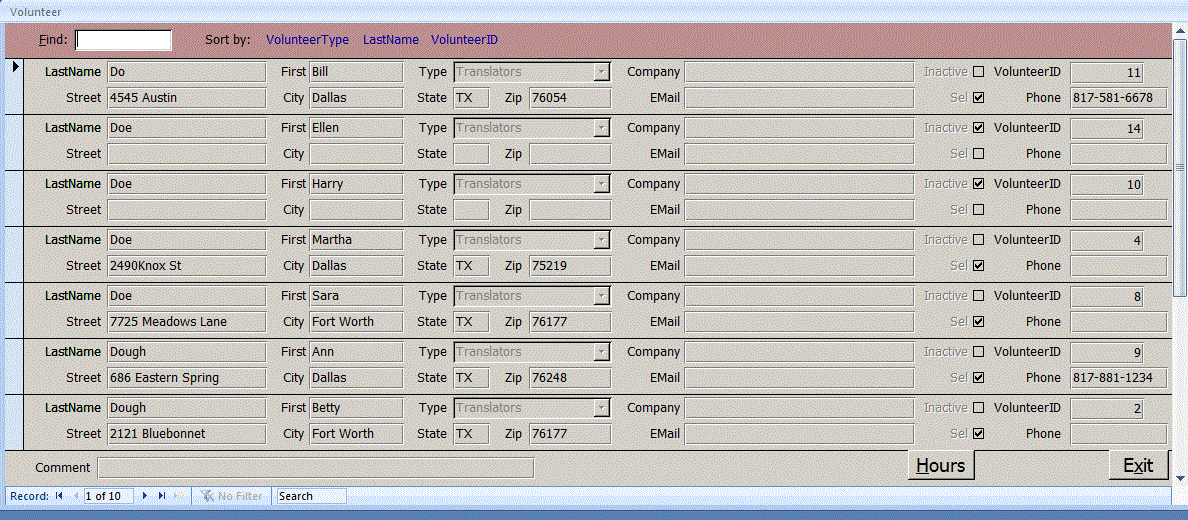 Volunteer form lets you enter and show information about each clinic volunteer.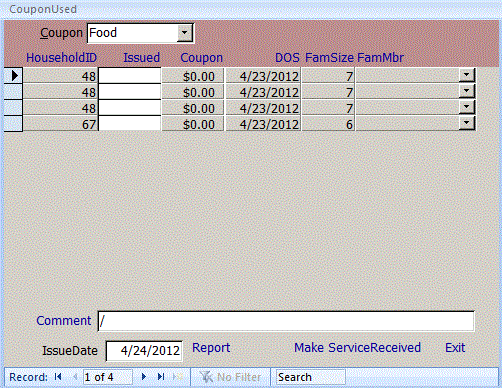 Coupon Used form lets you turn an issued coupon into a service received. Select the type of coupons: Food, Rent, Utility, Christmas Food, Christmas Cottage or Thanksgiving Food. You will see households who have received that type of coupon and have not used it. Enter actual cost of the service in the Issued field for each household getting the service. Enter the Issue Date when the service was provided and click Report to view the Food Coupon Used report if food coupons were selected. Click Make Service Received to create service received records with comments for each household that has a cost in the Issued field.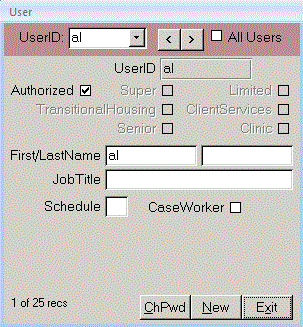 User form lets you add or delete users from system. Check the boxes as appropriate for Transitional Housing, Senior, Client Services or Clinic to let the user make and view private log entries about those groups. Check Case Worker for case workers. Enter a letter A-H to give this user a column on the Schedule form. More info on setting up users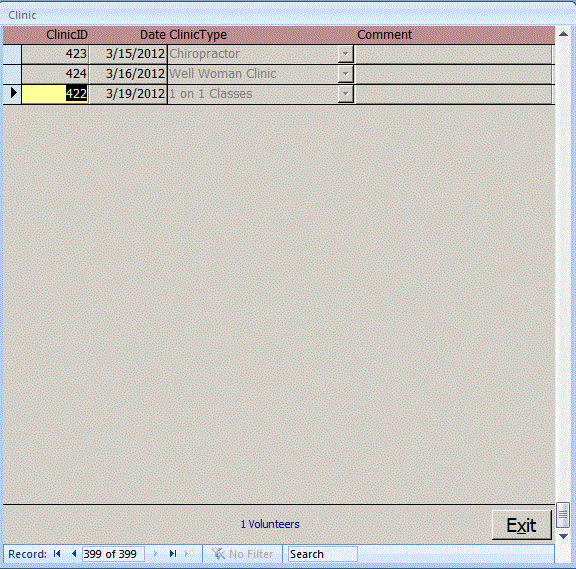 Clinic form shows types of medical clinics avialiable to clients.

Close