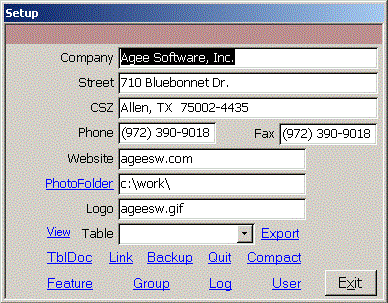 Click Setup to open the Setup form. Here you can set info about your company and the logo that will appear on invoices. Set the PhotoFolder where photos of properties and units will be stored. TblDoc is a complete data dictionary of the system inclding definitions of each field. These also appear on the status bar beside the Start button as the user tabs through each field.

Link lets you specify where the data tables are located. You can set them to your server for multi-user networks or a local disk for single user use. Backup lets you quickly save a copy of your data tables. Click Quit to force users out of the database for maintenance. Compact removes deleted records and rebuilds indexes in the data tables. It is similar to Defrag that is used on your hard drive.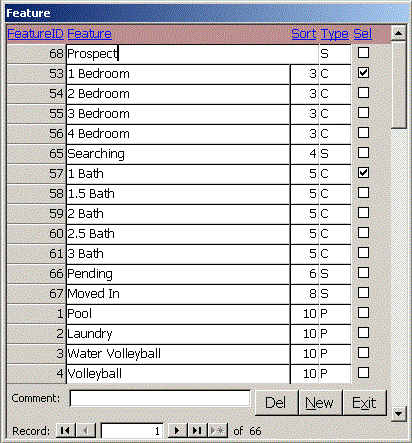 The Feature form lets you set Property Features and Unit Features to describe the property. You can also set preferences that a contact can request. Those should match the Unit and Property features. Number of bedrooms, baths and locations (communities or school districts) are required for a general match. Use the following FeatureTypes: C=ContactPreference, L=Location, P=PropertyFeature, S=Status, U=UnitFeature.
The Group form lets you set up marketing groups. You can add contacts to one or more groups and select groups for reports.
You can view log entries for all contacts on the Log form opened from the Setup form. If you open the Log form on the Contact form, you can view or add log entries for that contact.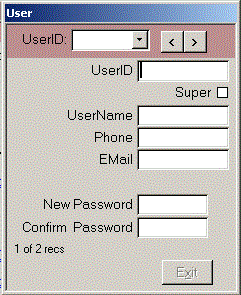 The Super user can add, remove or edit users from the User form. More info on setting up users

Close