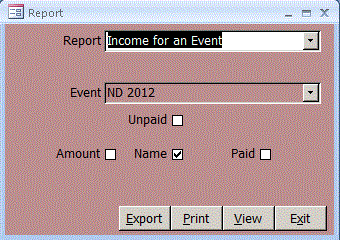 The Report Form shows different parameters based on the report. You can View the report on the screen and File, Print to any printer, Print to the default printer or Export to Comma Separated Access MDB, CSV, dBase DBF, Excel XLS, Text or Word / WordPad RTF.

Four Year Comparison Report. Amount sorts by Total amount contributed descending. Name sorts by LastName. To make a year appear on the report, the year must have an event ending in Brk or Break like 12Break.

Breakfast Report shows attendees for an event sorted by attendees last name. Check Table to sort by table, then LastName.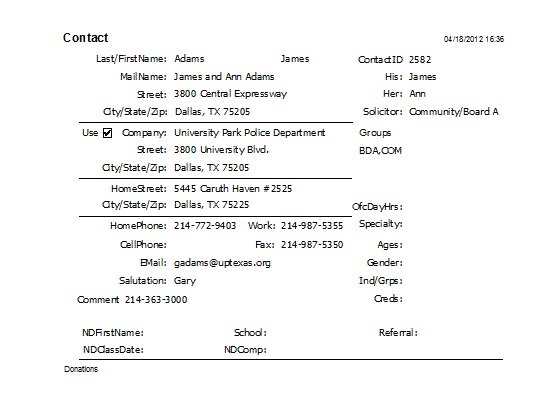 Contact Report shows one page of info per each Sel contact.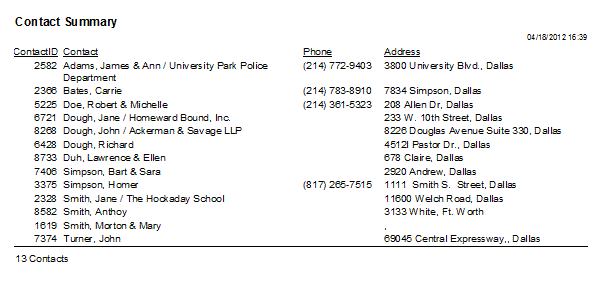 Contact Summary Report shows one row of data for each Sel contact.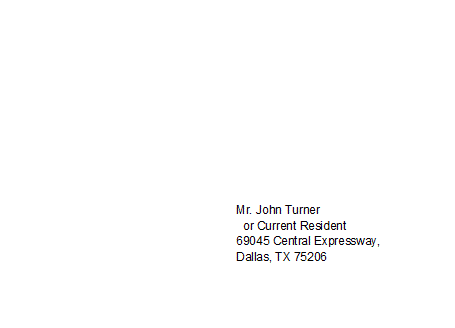 Envelope prints the donor's address on a #10 size envelope. Check FirstName to use FirstName LastName instead of MailName. Check Curr to add the line 'Or Curr Resident' beneath the name. The report sorts by Zip and always shows Company.

Guest List Report shows paid attendees and guests for an event. Choose the event and sort by Table, Name or Amount. Check ShowAmount to see the Amount donated on the guest list.

Income for an Event Report shows amount paid by each attendee to an event. Check Amount to sort by Amount or Name to sort by LastName or Paid by sort by paid date. Check Unpaid to show unpaid attendees.

Labels Report shows mailing labels on 3 column 10 row sheets for Sel contacts. Check FirstName to use the FirstName field. Otherwise, Her (if it isn't blank) or His is used. Check Zip to sort by Zip, LastName instead of LastName, His, Her. Check Curr to show 'Or Current Resident' beneath the name. Company is not currently used. If the Use checkbox beside the work address on the Contact form is checked, the Work address (WorkStreet, WorkCity, WorkState, WorkZip) is used instead of the home address (Street, City, State, Zip).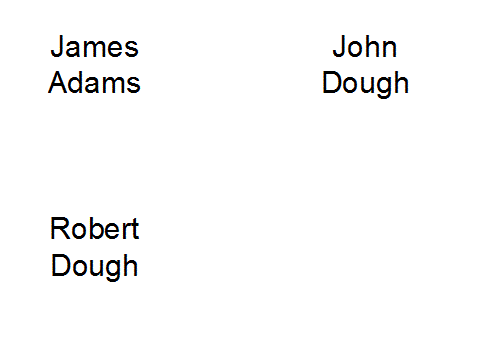 Name Tag Report prints 2 column by 5 row per page name tags for the paid donors and their guests for an event. The report is sorted by LastName, FirstName and shows TableNo.

New Directions Report shows contacts who have a NDDate within the date range. The report is sorted by LastName, NDFirstName. The No Donations for a Yr Report is the same as the ContactSummary report, but shows only those who haven't donated to an event since a selected date.

Solicitor Report shows donors sorted by Solicitor for Sel contacts. The amount shown is for Sel Events. The report is sorted by Solicitor and LastName.

Table Report shows guests for an event sorted by Table, Seats DESC, Company and LastName. The report offers to delete duplicate guests (where a donor is included in the Guest table).

Therapist Report shows contact info for those in a group that contains 'THR' or for Sel contacts. The report is sorted by LastName.

Close