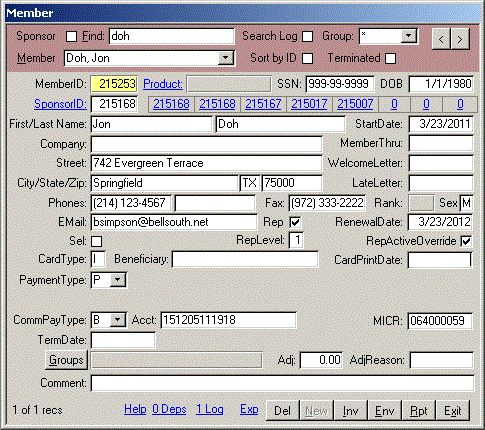 The blue links on the SponsorID line show the genealogy of the member / customer. Click a link to jump to that member. If the member is authorized to sell products, check the Rep box. The renewal date is the date the Rep authorization expires. You can warn that the membership is expiring with a letter and then store the termination date to offer renewal discounts later. You can override the Rep expiration. Card Type and Card Print Date are for printing an ID card for the rep. Select a Payment Type. For Credit Card or Automated Clearing House ACH payments, enter the Account and Expiration date. If Payment Type is Credit Card, the account is checked against an algorithm to reduce invalid account numbers. For bank drafts, use MICR and Account. You can provide options of commission reimbursement via credit card or check to the rep. Marketing Groups let you offer promotions to different groups of members. Adjustment and Adjustment Reason let you credit a rep's account for the next pay period. Remember to set adjustment back to 0 after the payment is made. SSN and DOB are optional for when you need to positively identify a member. A warning will appear if the SSN already exists in the database.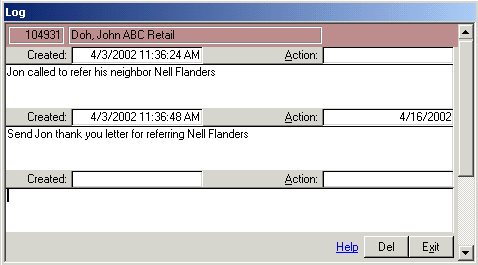 Click Log to make log entries for the member. After 5 minutes, the log entry becomes permanent.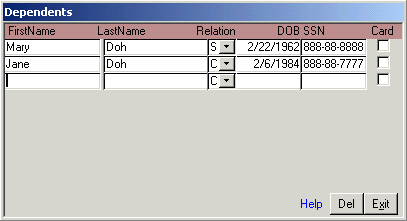 CLick Deps to edit dependents if applicable.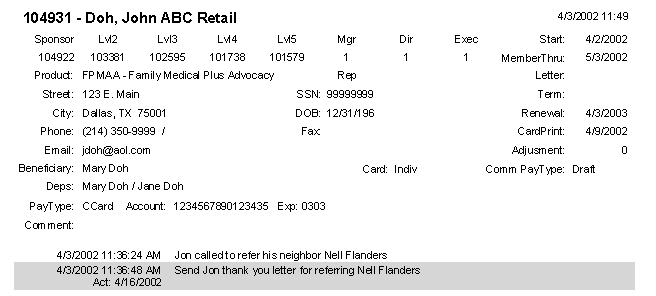 Click Rpt to view or print the Member report for the member.

Close