Agee Software, Inc.
Filter / Find Box for Access Form
Here is how you can add a find box to a continuous form that lets you search multiple text, numeric, date or boolean (Yes/No) fields. The sample form is called frmContact with a recordsource called qryContact. For this example, the SQL for qryContact is: SELECT * FROM tblContact tblContact contains fields: ContactID, LastName, FirstName, Street, City, State, Zip, Phone, StartDate, Sel. ContactID is numeric, StartDate is a date field. Sel is a Yes/No field.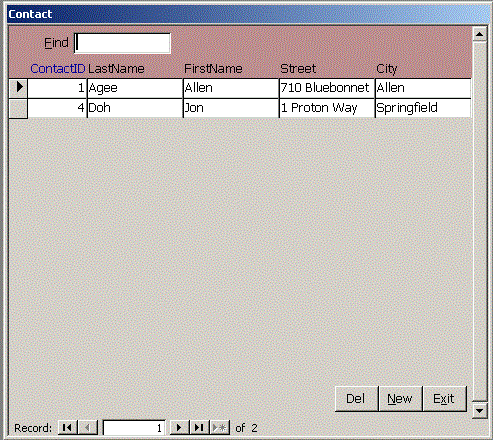 Create a textbox named txtFind at the top of frmContact. Set its label to Find.
Modify qryContact to add this Where statement (It should all be one line): SELECT * FROM tblContact WHERE '|' & ContactID & '|' & LastName & ', ' & FirstName & '|' & Street & '|'
& City & ', ' & State & ' ' & Zip & '|' & Phone & '|' & Format(StartDate,'mm/dd/yyyy') & '|'
& IIF(Sel,'SEL') & '|' LIKE '*' & Forms!frmContact!txtFind & '*'
Add a line of code to the AfterUpdate event of txtFind to requery the form: Me.RecordSource = Me.RecordSource
Add the following code to the GotFocus event of txtFind to clear the Find box and show all records. On Error GoTo 0
If Me!txtFind > "" Then
Me!txtFind = Null
txtFind_AfterUpdate
End If
Me!txtFind.SetFocus
To help the user remember how to use the Find, set the StatusBarText property of txtFind to: Find in: |ContactID|LastName, FirstName|Street|City|State|Zip|Phone|StartDate|SEL| You can also set the ToolTip property of txtFind and lblFind to this value.
The vertical bar delimiters let you specify the beginning or end of a field.
If you Find for Smith, it would return records containing '123 Blacksmith Way'.
If you find for |Smith|, it would return only records where the field matched Smith exactly.
You can use comma for delimiters to find Smith, John or Dallas, TX.
To find records where Sel is checked, find for |SEL|
You can use the ? wildcard to match any single character. 12/??/2018
Or use * to match any number of characters. 123 Park * Dallas
If you have multiple numeric or date fields, use different delimiters like ~ or .I1234 for InvoiceID