Agee Software, Inc.
Cert Database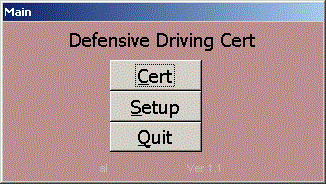 Click Cert, Setup, or Quit.


The Cert database lets you create certificates of completion for Texas' defensive driving course approved by the Texas Department of Licensing and Regulation (TDLR). It contains the following features:
Uses TDLR approved process to create changed certs
View, print or export certs to PDF with a single click or keystroke
Exports comma separated (CSV) file for upload to TDLR whenever you like
Export tracks last export so you don't duplicate exported records
Cert numbers automatically increment
Last Cert Warning tells you when it is time to order more certificate numbers
Uses your unique insurance numbers for students who take the course for insurance only
Auto fills instructor and class from last record
Selecting instructor fills three fields
Import feature imports TDLR formatted CSV files
Data Integrity form lets you spot certs with incomplete or inconsistent data
Works with any version of Access 2000 or newer
Navigate through forms using either keyboard or mouse
Secured by Microsoft user level security. Add as many users as you like
Alt-Z on a record shows who last edited a record and when
Status bar help and tool tips make data entry easy for new users
Includes a data dictionary and you can view or export any table in the system
To install, copy three files to a folder and double click the main database
Use Link and shortcut creation to set up training and archived databases
Update dates by typing m/d, DblClick, PgUp/PgDown or calendar date picker (2007 and newer)
The Main menu shows the version number of the database. Click on the version number to see where tables are linked and other troubleshooting and contact information.Alt-Z from the main menu lets a super user make programmed table structure changes without having a developer log onto their network. Only one user has to make these changes. Other users should be out of the database when table structure changes are being made. Updates are normally performed by sending a link to you via email with a summary of the changes. Follow the link and unzip the file onto your server in the same folder where your data tables are located. Double click on the database to create a shortcut. A super user should then run the new version on the server. Answer Yes when asked if you want to tell others the new version is available. When other users log into the database, they will be offered the new version. If they answer Yes, the database will close and they can reopen the database in about 20 seconds when the copy operation is complete. This update process also distributes the MDW file, where encrypted user accounts are stored, so any user can log in from any PC.
Close