Enter your company's contact info. To see the raw data in any table, select it in the Table combo and click the blue View link. You can sort or move columns. When you close the table, don't save. You can export tables to CSV, DBF, HTM, MDB, RTF, TXT or XML formats. TblDoc creates an HTML data dictionary that describes the fields in each table. Clicn User to open the User form. Super users can add or delete other users. More info on setting up users Link specifies the location of the data tables. It may take a couple minutes to relink the tables. To back up your data tables, click Backup and specify the file location. Click Quit to force users out of the database for maintenance. Compact is similar to defrag for your hard drive. It removes deleted records and rebuilds indexes in your data tables. Note lets you add notes not related to a property, contact or listing.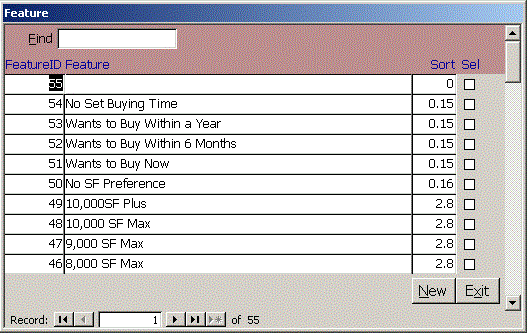 Click Feature to edit the property features desired by a contact.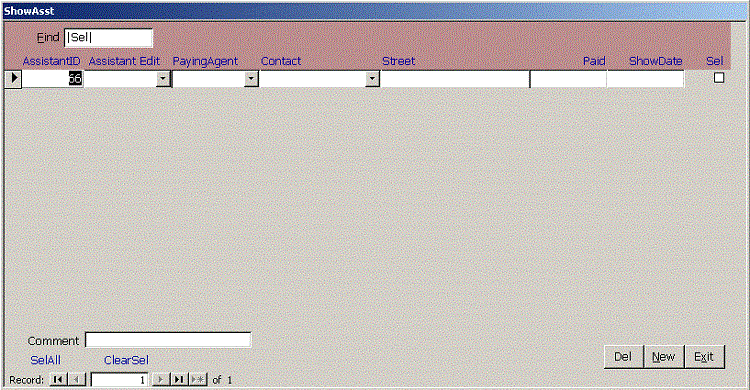 Click Show Assistant to log when showing assistants show a listing.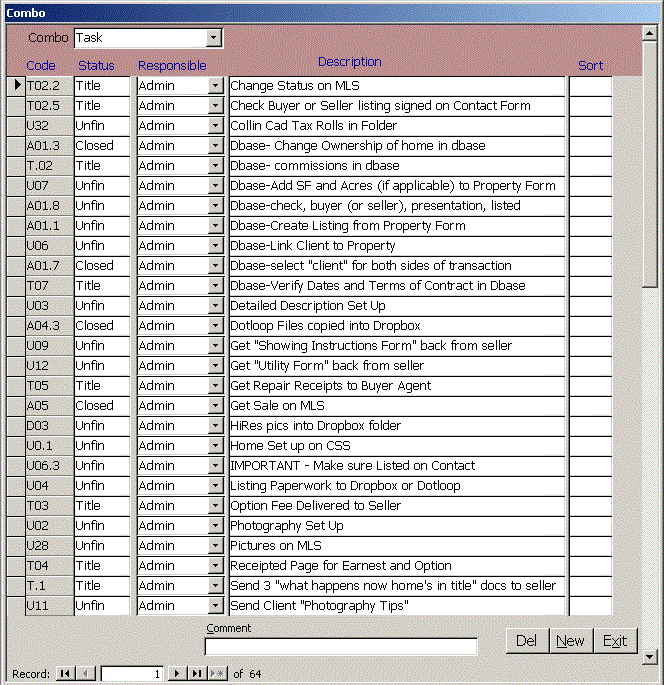 Click Combo to open the Combo form. Super users can add or change the values that appear in combo boxes throughout the system. The Code field is required as a primary key for for each record. Combos include:
City
ContactType
FoundUsHow
Group
ListingAgent
LogType
LWTC
PersonResponsible
Priority
PropertyType
School
ShowingAssistant
Status
Subdivision
Task
TransactionType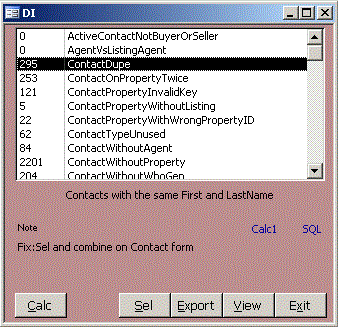 The Data Integrity form helps you keep your data complete and accurate without slowing data entry because the data wasn't currently available. It is easy to create dozens of these queries in an hour, so any time you encounter a data entry problem, we can create a DI query to avoid it in the future. Each query has a line describing what the records represent and a line describing how to fix the problem. Click Calc to count the number of problem records for each query. Calc1 counts the problem records for the current query. SQL shows the raw SQL statement for the query. Sel selects the problem records and opens the appropriate form so you can scroll through and fix the records. Export lets you save the problem records as an Excel XLS, CSV, TXT or other format. View shows the problem records read only. If problems in a query can be fixed using automated rules, you may see a Fix button that confirms and then fixes the problem records.

Close